FID Fuzzy Development Tool for ADSP 21xx
There is no further development for this product!
What is FID (Fuzzy Application Software)?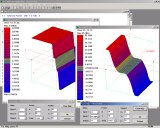 The FID-Fuzzy Application Software (Fuzzification-Inference-Defuzzification hereafter FID) is a Microsoft Windows based programme that quickly and easily opens the world of fuzzy logic to ADSP-21xx users. Fuzzy logic can be implemented on fast, cheap and easy to program digital signal processors; a combination as interesting as it is versatile. Now, using FID-Fuzzy Application Software, fuzzy logic is open to all. The concept of fuzzy logic is about 30 years old but it is only now that its exciting possibilities and potential are being recognized.
How is it used?

The FID software package provides a high-level and easy to use interface for fuzzy logic applications and produces ADSP-21xx code for running initially on an EZ-LAB board. In order to adapt the fuzzy specific code segments to your specific target system, you only need use the ADSP-21xx programming language.
Does FID-Fuzzy Application Software require special hardware?
No. The FID-Fuzzy Application Software has been developed to function with regular ADSP-21xx hardware (e.g. EZ-LAB).
What does FID-Fuzzy Application Software mean for your business?

The FID-Fuzzy Application Software can simplify and accelerate fuzzy projects and developments and even combine non-fuzzy already implemented software with that of fuzzy control software. In other words through FID-Fuzzy Application Software efficiency can be optimized without expensive restructuring or time-consuming adjustments. Efficiency is important to every company and even more so in today's competitive world.
How can FID-Fuzzy Application Software help you to stay competitive?
New problems require new solutions. New demands require new responses and methods. Fuzzy logic answers these both and supplies new possibilities - essential in staying one jump ahead. The FID-Fuzzy Application Software helps the ADSP-21xx user to work quickly and easily and ensures that, in his hands, the latest technology remains the latest technology. In addition, existing fuzzy applications on special fuzzy chips can be easily transferred to general purpose ADSP-21xx processors.
What's the difference between FID-Fuzzy Application Software and its competitors?
The difference is major. Fuzzy logic is available on specific fuzzy chips but these require costly additional software and hardware tools, or special microcontrollers with restricted code and speed efficiency, whereas FID-Fuzzy Application Software complements Analog Devices ADSP-21xx hardware completely. It is also much easier to understand and to operate. This means fewer mistakes, a better command and overview of all possibilities, and a resultant saving of time. The use of FID-Application Software leads, quite simply, to greater efficiency!
What Promotional / Literature Support will be Provided?
A two-page data sheet is available in PDF-Format.
The On-line help for the FID-Fuzzy Application Software helps you to understand the inputs and usage of all dialog boxes.
A supplied software manual will describe the software, give a short introduction into Fuzzy Logic and all implemented examples on the EZ-LAB. More detailed information can be gained from numerous books and articles about fuzzy logic.
Price & Availability
The software package is priced at $480 + VAT + Shipment. Available from stock.
Feel free to make copies of the demo software and distribute it.
Readme.txt
Readme file of FID Fuzzy Development Tool
FID Fuzzy Development Tool - Free Demoversion 1.6
FID Fuzzy Development Tool for ADSP 21xx
Demoversion 1.6 (373kB, published 01/01/97)
Tested for Win 3.11, Win 95, Win 98, NT 4.0, seems also okay for Win Me and Win 2000
There is no further development for this product!